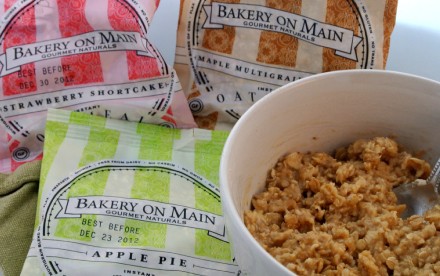 Get $40 worth of Gluten Free Instant Oatmeal (36 packs) from Bakery on Main for just $20 including shipping…With this deal, you will receive:
12 packs of Apple Pie Flavor Instant Oatmeal
12 packs of Strawberry Shortcake Flavor Instant Oatmeal
12 packs of Maple Multigrain Muffin Flavor Instant Oatmeal
This particular deal is a voucher-less deal, which means you do not have to wait on a voucher code and order from another site…your order will ship within 3-5 business days after purchasing this deal.
Snag this gluten free oatmeal deal here!
Note: All products in this package are gluten, casein, dairy, soy and GMO free.  These products are made in a facility that processes tree nuts and peanuts.