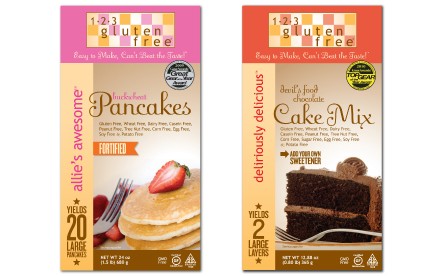 Get $60 worth of 1-2-3 Gluten Free Six-Mix Sampler Baking Pack for only $29 including free shipping!  With this deal, you will receive six gluten free baking mixes including:
Divinely Decadent Brownie Mix
Allie's Awesome Pancake Mix
Southern Glory Biscuit Mix
Deliriously Delicious Devil's Food Chocolate Cake Mix
Micah's Mouthwatering Corn Bread Mix
Sweet Goodness Pan Bars Mix
All of 1-2-3 Gluten Free's mixes are free of gluten, dairy, casein, peanuts, nuts, soy and egg. Everything is manufactured in a kosher and nut-free facility that is certified gluten-free by the Gluten-Free Certification Organization.