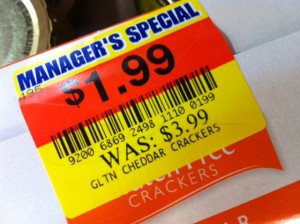 When you're on a tight budget and you're dealing with food allergies, you've got to keep your deal radar on high…because when you see a deal on an allergen-free product, you've got to grab it while you can.
I wanted to remind you to check in all the "wrong places" because you never know what gem of a deal you'll find!
Look on the "Manager's Special" cart or section of your store.
Stop by the international grocery store in your area. Many imported ingredients are free from allergens like gluten and dairy and soy. And they're often cheaper too!
Discount stores, like Christmas Tree Shops, carry food and as food allergies become more known and products more widely distributed, you'll be able to find a good deal there too. (Gluten free pasta for $1.79/lb!)
Dollar Stores and grocery store outlets
Ask your store managers about overstock. Let them know about your situation and the products you'd like them to stock and ask them to let you know if they need to move inventory. The "natural foods" section manager will likely keep you up to date if you befriend them.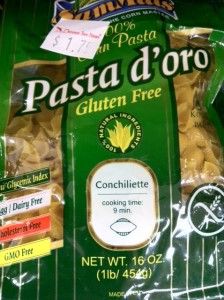 What unusual place have you found the best deals on food allergen-free products? Have you visited any other stores, besides major grocery chains, to see if they have any options that fit your food allergy needs?
Every penny counts…