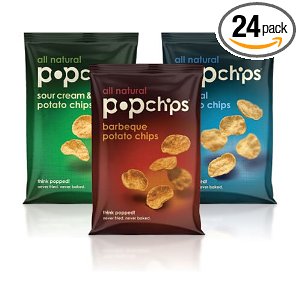 Amazon has the 24 pack of PopChips (assorted flavors) on sale with Subscribe & Save.  These are the perfect snacking size bags for on-the-go, kid's lunches, or a small snack in between meals.
Subscribe & Save Price – $17.42
Free Shipping with Prime and Super Saver
Final Price: $0.73 each!
You'll receive 4 Original Potato, 4 BBQ, 4 Salt & Pepper, 4 Sea Salt & Vinegar, 4 Sour Cream & Onion, and 4 Cheddar.  PopChips are gluten-free, kosher certified, and contain no nuts or soy.  Some flavors do contain dairy, so read the labels if that's an issue for you.
Grab these PopChips on Amazon here.
**Note: Amazon prices are famous for fluctuating. Please note that prices may change from time of posting to time you view the deal.